6 Easy Do's for every homeowner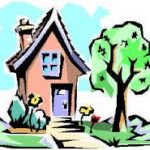 6 Things Western New York Homeowners Should Do to be Ready for Summer
Long, sunny days are the hallmark of summer in Western New York. And whether you spend your days outside in your Buffalo-area yard or in your air-conditioned home, six summer homeowner tasks can help ensure both are ready for summertime action.
Power wash patio or deck, clean outdoor furniture
You can't very well enjoy your outdoor living space if it's coated in dirt, dust, cobwebs and leftover winter grime. Power washing is a highly effective way of sprucing up your patio or deck, especially with tips from our power washing article.
Plastic outdoor furniture can come back to life with a quick wipe of white vinegar or a wet sponge sprinkled with baking soda. A mixture of warm water and oil-based soap, like Murphy Oil Soap, works well for wood outdoor furniture.
Organize your garage for summer activities
Summer homeowner tasks should definitely include moving the snow blower and sleds to the back of the garage and the rakes, shovels and gardening tools the front. The same holds true for your picnic gear, camping equipment and other summertime items you'll want readily accessible throughout the season.
Switch out seasonal bedding and clothes
Say goodbye to your flannel sheets and wool pants and hello to your lightweight cotton bedspreads and shorts. Reorganizing your linen closet, clothes closet, dresser and shoe rack can make getting ready for summer fun so much faster and easier with your seasonal items front and center.
Turn over mattresses
When was the last time you turned over your mattresses? Exactly. Adding the activity to your list of summer homeowner tasks ensures it gets done at least once a year to help prevent sagging and extend mattress life. Some manufacturers recommend turning them four times per year.
Service your air conditioning unit
Getting your Buffalo area home's air conditioning unit looked at once a year is another good idea to extend the life of the unit and ensure optimum performance. Basic steps in the process typically include:
Removing debris collected inside the unit
Cleaning the fins
Cleaning around the unit
Cleaning the evaporator coil
Making sure the unit is still level
Check smoke alarms and carbon monoxide detectors
Check all the batteries and connections on any smoke alarms and carbon monoxide detectors, another home task that should make your list at least once per year. As a leading home inspection company in Western New York, we know how important, yet overlooked, this task can be.
Taking care of these six summer homeowner tasks can help you enjoy the season with peace of mind, a pristine outdoor living space and your favorite pair of sandals at the ready.