Tips to Declutter Your Buffalo Area Home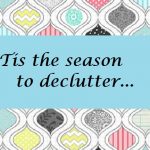 When you're constantly stuck in the house during Buffalo area winters, your home can start to feel smaller. This especially holds true if you have loads of clutter that could use a good going-through. Frigid, snowy days are the perfect time for a deep winter decluttering of your Western New York home. These tips can help you get started.
Pack Away the Holidays
Even if your tree is down and the tinsel boxed up, you may still have a haul of holiday décor that's not yet packed. Or you may have packed everything in a hurry and simply jammed it in the garage or basement. Either way, your holiday fixings may need some attention.
Taking the time to organize and properly label your holiday décor can make it easier to find next year. A few tips include:
Using color-coded or clear plastic tubs for clean packing and easy stacking
Storing smaller, fragile ornaments in empty egg cartons
Wrapping holiday lights around hangers to prevent tangling
Turning holiday cards into gift tags for next year by cutting out small areas that have a colorful image on the front and a blank back
Chipping your Christmas tree and using it in the compost pile or as mulch around shrubs and garden beds
Winnow Down the Constant Clutter
Tackle all the piles, drawers, closets and overflowing storage bins that couldn't hold another thing if they tried. Breaking the overall winter decluttering saga into a series of smaller steps can make the tasks more manageable.
Create three piles for each mini-project: things to keep, things to donate, things to throw away.
Only keep things you love and/or have actually touched over the last year.
Set mini-goals every day, such as hall closet on Monday, dressers on Tuesday, until all areas are organized and clutter-free.
Invest in attractive and functional organizational tools, such as covered storage bins, cabinets, and multi-functional hangers.
Consider a closet system, which can significantly increase your storage space and ability to find things when needed.
Launch a Deep Cleaning Mission
Once the winter decluttering is done, it's time to clean. A deep cleaning after decluttering ensures you'll be able to access and clean all the new spaces that are likely to be created. A few tasks on your deep cleaning list can include:
Carpet cleaning: Rent a machine or hire a professional carpet cleaning company
Oven cleaning: Set the oven on self-clean, then wipe down the interior with a cloth dipped in vinegar once the self-cleaning cycle is complete
Doorknobs, appliance handles, light switches, drawer pulls and all the other things people grasp on a daily basis
Top-to-bottom dusting: Include the tops of shelving units, ceiling fans, door frames and pedestal table bottoms
Other areas that are typically ignored: As a leading Buffalo-area home inspection company, we've seen numerous areas that are notoriously overlooked. These tend to include dryer vents, air ducts and range hoods.
A winter decluttering and cleaning of your Western New York home may not make the season pass faster, but it can certainly seem like it does. By the time spring rolls around, your home will be immaculately set until next year's overhaul, giving you plenty of time to go out and play.