How to Win the Battle with Pet Hair at Home and in the Car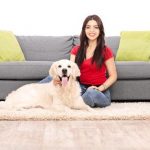 You love your pet, but you could probably do without the loads of pet hair that ends up tracked, strewn or otherwise collected throughout your Western New York home and car. A number of tips can help you keep the pet hair under control.
Pet Hair Removal
Unfortunately, there's no magic cure for pet hair removal. Rather, you have a lineup of options to try, with some methods working better than others depending on the exact type of fabric, flooring, carpeting and pet hair on hand.
Vacuum: It's not uncommon for pet owners to vacuum four or more times each week to keep pet hair under control. Special attachments can help lift pet hair off furniture and carpet. If such frequent vacuuming sounds like too much of a hassle, consider investing in a robot vacuum designed for pet hair pickup that does all the heavy lifting for you.
Rubber broom: A rubber broom can work to scrape pet hair from carpet in your home or car. Vacuum it up once you have a tidy pile.
Rubber gloves: Don a pair of household rubber gloves, and then rub the gloves in one direction to scrape pet hair off furniture or tough-to-reach car areas.
Slicker brush: Pet slicker brushes can help lift and remove pet hair from dense indoor/outdoor carpeting. Just be gentle so you don't damage the carpet with the wire bristles.
Damp sponge or mop: A slightly damp sponge can help remove pet hair from furniture and fabrics. A damp mop can do the same for tiled or hardwood floors.
Lint roller and tape: Going over fabrics and furniture with a lint roller, or placing strips of duct tape or packing tape across a surface can pull hair off fabrics and other surfaces. Tape can usually cover larger areas at a lower cost, while a lint roller in your glove box provides a quick fix for clothing or car seats.
Laundry: Just as regular vacuuming is the most effective means of pet hair removal in your Western New York home, washing works best for removing hair from bedding, throws, clothing and washable slipcovers.
Pet Hair Prevention
Once your Buffalo area home and car are as free of pet hair as you can get them, you can save yourself some hassle going forward with a few pet hair prevention tips.
Bathe, brush, brush some more: Regularly bathing and brushing your pet can help loosen and remove hair, potentially cutting down on the amount that ends up stuck to fabrics, furniture and carpet. You can brush pets as often as you wish, as long as you're not irritating the skin beneath the coat.
Covers: If you can buy a washable cover for a pet-heavy location, go for it. Choose pet-friendly covers for car seats and car floors and slipcovers for couches and armchairs. Get two of each type so you can quickly swap them out for easy washing on a weekly basis.
Hopefully these tips we've amassed over the years as a leading home inspection company can boost the enjoyment of your pet by reducing the amount of pet hair you have to deal with on a regular basis.