How to protect yourself from porch pirates this holiday season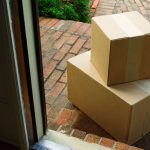 It's the season for high-volume holiday deliveries, which means it's also the season for higher-volume package theft. According to an InsuranceQuotes survey, an estimated 10 percent of folks have had a delivered package stolen from their home.  They also report, those in rural areas are more at risk than their big city counterparts.
Even if you live in a more populated Buffalo neighborhood, taking the proper precautions with holiday deliveries can help keep your packages safe.
Delivery Monitoring
Keeping track of what holiday deliveries are coming, and when, can help you coordinate your schedule to make sure you retrieve them off your porch as quickly as possible. Tips for keeping a keen eye on your deliveries include:
Signing up for alerts. Some carriers and delivery services let you sign up for alerts that let you track the progress of your packages.
Requiring a signature on delivery. Opting to require a signature for deliveries ensures carriers won't leave a package sitting on your porch if no one is home to sign for it.
Porch Protection
Another consideration is to make your porch a more secure place for deliveries, with options that can include:
A video camera. Porch video cameras are available in a number of sizes and price ranges, with motion-sensor options available. The sight of a camera alone may be enough to deter thieves, but it it doesn't, you may at least capture video of a theft in progress you can then report to police.
A lockbox. Porch lockboxes are another option, which allow deliveries to be placed in a locked container rather than out in the open for anyone to grab. Some have electronic panels that let delivery people type in a code to open the lid.
Concealed areas. Instruct delivery carriers to leave packages in a more concealed area of your porch instead of out in plain view. Perhaps your packages could be placed behind a pillar, planter, chair or other larger item that ensure they're not visible from the street. Some carriers have an option for providing special instructions where you could relay your request.
Alternate Delivery Destinations
True, having to pick up your package from a location other than your Buffalo area home can defeat the convenience of deliveries, but it can also defeat the thieves. Rather than having your holiday deliveries put on your front porch, consider having them delivered to:
Your workplace if allowed.
The house of a neighbor, friend or relative who is home during the day.
A nearby pack and ship store, which are often run by UPS, FedEx or a local business owner.
A local branch of the store from which you purchased the item, as many companies offer this service.
As a leading Western New York home inspection company, we're always eager to share savvy tips for making your home a safe and comfortable place. Hopefully these tips can help keep your holiday deliveries safe, too.