Spring cleaning tips and tricks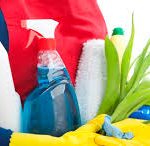 Spring Cleaning Tips and Tricks for Your Western New York Home
Even if the March weather says otherwise, Western New York homeowners are already thinking spring. Turn that thought into reality with a number of tips for spring cleaning, organizing and invigorating your Buffalo-area home.
Spring Cleaning Tips
Your home's exterior is likely to be screaming for a refresher after Western New York's winter weather. Give it the attention it needs by:
Sweeping out gutters
Swishing away cobwebs around decks and porches
Washing the windows, garbage cans and garage door
Pressure washing works well for garage doors and garbage cans. Steam cleaners can do wonders to remove winter's grime from windows.
Spring Organizing Tips
The interior of your Western New York home is just as likely to be in need of spring cleaning as well as organizing. The top two goals of spring cleaning are to:
Pay attention to areas that are typically ignored throughout the year – like the tops of all those bookshelves and cabinets
Wisk away all traces of winter's snow, slush, salt, mud and muck
Since thoroughly cleaning your home usually involves moving things around, take the opportunity to organize areas that tend to collect loads of disorganized clutter. These can include:
Mudroom and foyer: Buffalo area weather ensures not only will these floors need mopping, but the doors and walls may also need a hefty scrub-down. Consider swapping out the tired door mats for fresh ones and investing in handsome and durable storage solutions for boots and winter gear you'll soon be storing for the season.
Landing zone: Your landing zone is wherever you plop your keys, purse, bags and other items the moment you walk in your home. Create an organized, streamlined area with hooks, containers or other storage solutions that handily store your necessities.
Play room: Spruce up your children's play area with a fresh slate of toys and books. Keep some of your children's toys and books on display and others stored away. Rotate the variety with the change of seasons.
Closets: These are definitely another place where deep spring cleaning and strategic rotations can take place. Move heavy winter shoes, coats and clothing to the sides, top and back of the closet as you move lighter wear into the forefront's easy-to-reach locations.
Quick Tips for Getting Rid of Winter Feel
Getting rid of the winter feel in your Western New York home is your final step for spring cleaning. It involves peeling off the winter layers, replacing the heavy and dark with the light and colorful. This can be achieved with:
Fresh flowers and budding branches in vases throughout the home
Perky place settings at the table
Crisp pillows, throws, rugs and bedspreads replacing those you used all winter
A home inspection is never a bad idea in the spring, either, just to ensure your home survived the winter with grace and is up to par for the summer to come.